The hybrid workplace model seems to be the new norm (a distributed workforce). Many employees choose to work remotely by splitting their time between their home office, corporate or satellite office, and the digital workplace. Still, employees have also reported appreciating physical spaces to brainstorm, collaborate, and socialize with coworkers. New York, NYC businesses, organizations, and companies must react to the challenges that started from the pandemic with resilience, agility, and flexibility. The pandemic is fundamentally transforming employee and customer expectations. And there's no going back. Expectations for work within an enterprise ecosystem have drastically changed. Invest in technologies that help you adapt to those changing expectations from your stakeholders.    
Outfit every work environment you may encounter: 
Boardrooms

Meeting rooms

Huddle rooms

Breakout rooms

Office hoteling

Home office setups
All this is facilitated by the industry's most integrated, flexible, and secure end-to-end HD video, audio, and content-sharing room systems. 
Linked Security NY ensures that you have the right conference room video audio solutions so you can enjoy high-quality meeting room audio, video conferencing, lighting, thermostats, and more. 
 Affordable and Effective AV Installation
We specialize in providing affordable and enterprise-level AV installations for New York, NYC corporate offices, satellite locations, coworking spaces, and enterprise businesses. We are a leader in designing and implementing the audio and visual solutions that modern operations demand.  Bridge the gap between in-person and remote meetings by delivering a seamless collaboration across the organization.
 Our audio & video conferencing space system installations include:
Video solutions with plug-and-play connectivity and simplicity

Cutting-edge wireless communication technologies

Seamless connection with multiple communication systems interoperability

Meeting room design services

Professional deployment and great esthetics
 Integrating Different Proprietary Systems
Simplicity is crucial, and Linked Security NY can integrate different proprietary systems for conference room video audio solutions, such as Cisco, Crestron, Logitech, Lenovo, Extron, DTEN, AMX, or Polycom, so you have one seamless way to control it all. 
Enjoy a seamless experience between specific easy-to-use video conferencing hardware devices and the popular third-party cloud video conferencing app services like Microsoft Teams, Google Meet, BlueJeans, Cisco Webex, Zoom, GoToMeeting, and more. Connect with different information systems, devices, and apps to drive seamless communication across your organization and the outside world. 
Augment your experience by connecting the secure and easy-to-use cloud meeting services by tying in Microsoft Office 365, Exchange, Outlook, and Teams; Google Workspace, Slack, Amazon Chime, and other integrations. We can add one-touch buttons that make it simple, convenient, and easy to do things like lower the projector for a presentation, make a teleconference call, or share your computer screen. 
Meeting Room AV Design
Larger corporate meeting room space AV design will typically need multiple displays (perhaps a projector or two at the front of the room and flat panels along the side walls), properly-tuned audio systems for excellent voice intelligibility, and program audio reproduction. 
In addition, it will require wireless microphones for presenters and audience members and sophisticated audio and video-conferencing capability for meetings that may be shared between multiple locations. Finally, recording capability for later playback, custom programmed control systems for better equipment control, lighting, shades, and air conditioning is also crucial. 
 Conference AV and Boardroom AV Solutions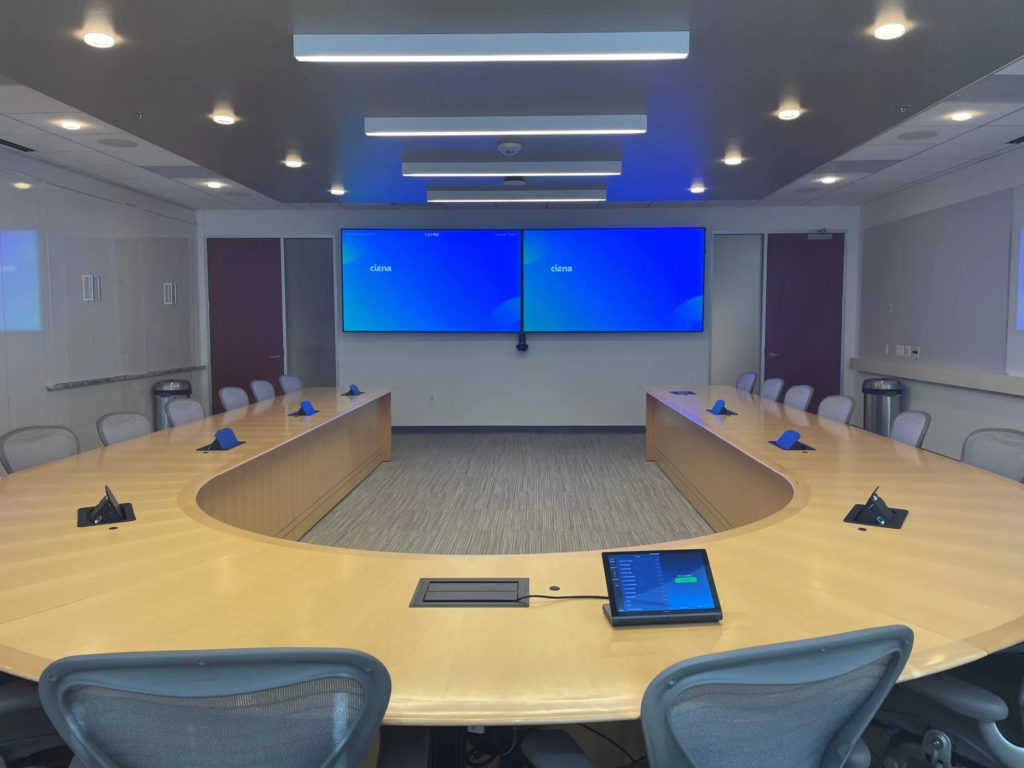 When you need a boardroom or conference room solution, Linked Security NY can help you decide what audiovisual technology you need in a conference room to ensure it is used to its full potential. What technology should you include in your conference AV setup? Are you prepared for hybrid meetings? Factors to consider:
Displays

Conferencing technologies 

Audio

Control Systems

Room scheduling  
Huddle Room AV Design
Huddle rooms are small conference areas equipped with audio, video, and display technology. These rooms are often used by groups who want to get together for impromptu or formally scheduled meetings to collaborate on projects. These spaces are becoming more prevalent and important as newer offices are often built with more open floor plans. While these designs may have fewer private offices, they will typically have numerous huddle rooms or huddle spaces (such as in coworking space offices) to allow people to collaborate in a private and quiet environment.  
Our huddle room design & huddle room solutions also include the hardware and software to allow users to conduct cloud-based audio and video-conferencing on the fly in meetings across a campus or country.  
 Huddle room design elements:
55" Flat Panel Display

Sound-Bar

Wide-Angle Video-Conferencing Camera

Microphone

System Interface/Dialing Device

All mounting hardware

Appropriate cabling or wireless system for source connection

Cloud-Conference subscription

Professional Installation
Zoom Room AV Design
Transform your huddle rooms, conference rooms – or any room – into a Zoom Room! Our Zoom Room setup bundles include everything you need to open up your meeting space to collaboration around the conference table, across town, or around the world. And it all comes complete with all the cloud-based and onsite services you need to accompany your in-room hardware. Linked Security NY can install easy-to-use platforms for teams to come together, collaborate, and make decisions virtually.  
Zoom room setup can include:
A state-of-the-art 70″ (or larger) touch-sensitive LCD and all associated mounting hardware

Crestron Mercury room system, including microphone, speaker, SIP conference phone, room control, and built-in AirMedia for wireless (BYOD) presentations

"White Glove" delivery, programming, and setup

Installation of a wall-mounted flat panel (does not include high-voltage electrical)
Digital Signage AV Install Solutions
Digital signage is a form of electronic display that shows any sort of information. It utilizes technologies such as LCD, LED, plasma displays, or projected images to display content. Lobbies, hospitals, stores, restaurants, theaters, lecture halls, airports, and libraries have digital signage showing up on nearly every wall. 
Single-screen implementations:

Linked Security NY can install simple, lobby-based systems to welcome your visitors by name to share real-time, dynamic content.

Multi-screen solutions:

Linked Security NY can create a system that will bring your important messages to lobbies, break rooms, training areas, and other workspaces to perform various functions.
Desk Booking AV Design
With the rise of remote working, we see fewer people in the offices. Instead, employers opt for booking an available desk or room for meetings. 
Desk booking comes in different forms with the only goal of allowing staff members to easily book a room desk and get occupancy alerts at the location to let people know if the space is available now, busy, or maybe needs to be cleaned. As a result, businesses save time, and people don't need to wonder about the building looking for a room. 
Our technicians can install hardware and software systems that allow authorized persons to schedule, cancel, and update meetings. 
Desk booking design solutions: 
Touch-enabled panels

Access from email calendars

Access from apps
Our experts provide tailored solutions if you want a more complex solution to integrate with your existing system.
AV Solutions for Reception Areas
Our AV technology will help to improve your reception area by expanding on the décor and contributing to the lighting and sound. Your customers will feel excited and relaxed. Talk to our AV specialists and see how they can transform a dull space into a highly interactive place that will engage your clients, staff, and partners from the moment they enter your door. 
Our AV services: 
Video walls and engaging displays

Interactive kiosks 

Broad audio paging systems
Town Hall AV Installation
There's a growing demand for Town Hall spaces in New York, NYC with high-quality audio and video features. If you are looking for a reliable AV design to yield a potent solution for top executives to make presentations, we have experience providing solutions for these types of rooms. 
Town Hall AV elements: 
Display

Audio

Wireless Connectivity 

Microphones

Recording  
At Linked Security, we strive to provide the best audiovisual solutions for our clients. From the moment you reach out to us for installation, you can trust us for premium AV services for your town hall. 
Start Making the Shift to Flexible Work Today
Want to learn more about our conference room video audio solutions? We specialize in interactive technology, cloud-based conferencing, custom control systems, and high-quality audiovisual products to improve efficiency and increase collaboration and productivity.